Play a competitive Minecraft Basketball mini-game! 🏀
Get this Minecraft map and start a match just like in real life: make two teams and chose a basketball court.
It's sports time! After Soccer in Minecraft, here's Basketball. Grab some friends, play together, or even in single-player. There are no limits!
Keep scrolling for the download! ⬇️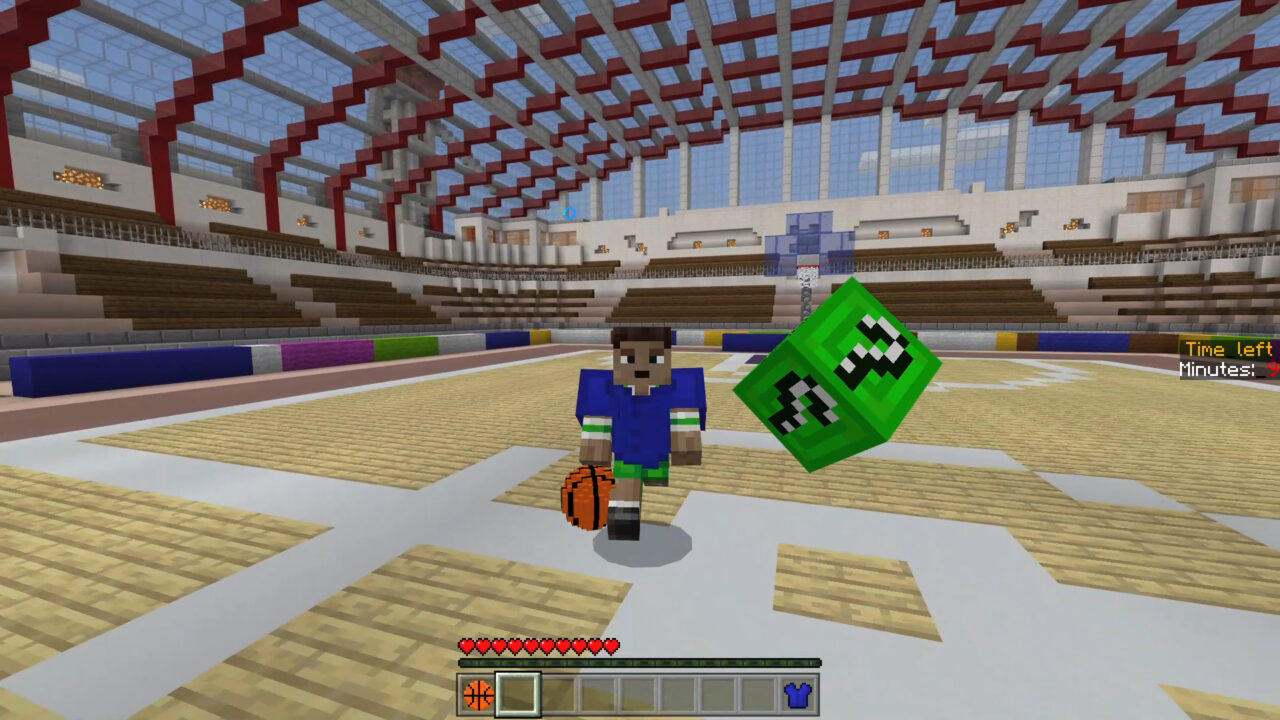 How to shoot the ball
In the map lobby, posters like this will show you everything you need to know, but let's do a quick summary.
Hold the basketball in your hand.
Aim. (You'll notice you'll have to adjust the aim a little bit, just like when you throw snowballs or ender pearls)
Right-click if you're on PC or long-tap your screen on mobile devices.
The picture below shows how to make a basket, guaranteed! 😁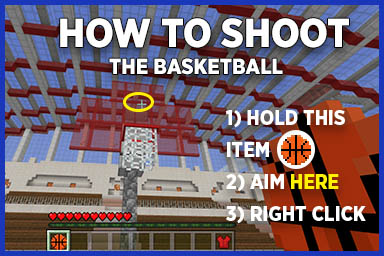 Block other players and steal the ball
Someone in the opposite team has the ball. How can you take it?
Use the item and block him out!
He'll get a strong slowness effect and a cloud of red smoke. When he's in the cloud, walk through him to steal the ball. Done, it's yours!
Hold the "Block-Out" item (the white circle with the red cross)
Right-click if you're on PC or long-tap your screen on mobile devices.
All players nearby (2-3 blocks distant from you) will get blocked, and won't be able to move.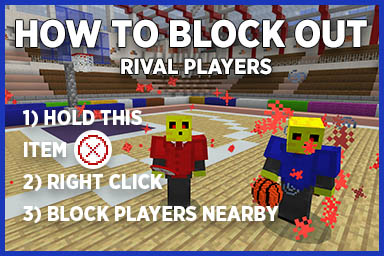 Download Minecraft Basketball
I guess now you just wanna start playing! 🤩
Get Basketball for Minecraft Bedrock: check if your version is compatible, and click the green button below!
This creation was made for Minecraft Bedrock Edition
What is Minecraft Bedrock?
It works on:iOS AndroidXboxWindows 10 EditionNintendo SwitchPlay Station
BONUS: Cheat code
Have you bought Basketball and followed me on Instagram?
I feel you deserve something special! 😍🎁
Follow this tutorial and learn how to strike lightning to other players in a basketball match!⚡️
I'm sure you'll have fun with this🔥
Here's the link: https://www.instagram.com/p/CDWqT4bBgdo/
I'm sorry you didn't like this creation
Let me improve!
Tell me how could I improve this creation?
Do you like Minecraft Maps?
Hey, I'm Cimap! I love to amaze thousands of Minecraft players with my creations. Don't miss them out!